Buy Rascal Mobility Scooter Batteries
Rascal seems to be one of the more well known manufacturers of quality mobility scooters, and we know exactly why. 
Using an increased 50Ah battery size in a lot of their mobility scooters offers an impressive range of up to 34 miles & the luxury Captain's seat makes it an excellent solution for active people who require a multi-purpose scooter & want to stay out for longer with friends & family. 
The compact & slim-line style of their scooters offers plenty of legroom yet it is still extremely robust with generous turning manoeuvrability, making it ideal for everyday use. 
With regards to the batteries, Rascal scooters come with an easy to use charging port with off-board battery charging capability. They understand that the battery is the heartbeat of your scooter, so they do everything within their power to ensure that your scooter's battery is reliable and safe. We can give you the perfect battery replacement for your scooter, making sure that your performance isn't compromised. If you need to replace mobile scooter batteries, we can make the process as easy as possible for you so you get the functionality that you need.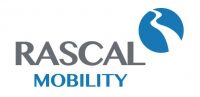 Not sure what battery you need?
Find your Rascal Mobility Scooter and its correct battery below.
Liteway Balance Plus: 15ah
Liteway 4 Plus: 15ah
Rascal Veo: 15ah
Rascal Veo Sport: 22ah
Ultralite 480: 15ah
Liteway 8.: 6 x 15ah (3 pairs)
Rascal 388: 36ah
Rascal Vista: 36ah
Rascal Vista DX: 50ah
Rascal 388 XL: 36ah
Rascal Vantage X: 50ah
Rascal 850: 50ah
Vexta SPort: 50ah
Rascal 320: 22ah
Rascal Frontier: 36ah
Rascal Pioneer: 75ah
Rascal Ventura: 75ah
Rascal Vision: 100ah
We have a huge range of great batteries, including AGM, Gel and Lithium for longer life span. If you're looking for reliability and better performance then we recommend Lithium batteries from SLK Mobility.
How to choose battery type (technology)
AGM (Absorbent Glass Mat) and Gel batteries are commonly used in mobility scooters, providing reliable power with different characteristics. AGM batteries use a fiberglass mat to hold the electrolyte, offering a balance between cost, performance, and maintenance. Gel batteries, on the other hand, use a thick gel electrolyte, resulting in a more durable and vibration-resistant option, but with a higher price. Lithium batteries, a more advanced option, deliver lighter weight, longer lifespan, faster charging, and higher energy density, making them increasingly popular in mobility scooters despite a higher initial investment.
What battery Size (Capacity) do I need?
The battery size (capacity) you need for your mobility scooter depends on factors such as usage duration, terrain, weight, and specific requirements, and it is recommended to consult the scooter's manufacturer or a mobility battery expert to determine the right capacity.