Buy Invacare Mobility Scooter Batteries
Since 1885, Invacare has helped people with disabilities live life. Today, Invacare is the global leader in home and long-term care modern day products. Invacare is one of the global leaders in the manufacture and distribution of innovative home and long-term mobility solutions to those most in need. 
Ranging from small and affordable indoor wheelchairs, to more complex and long distance motorised mobility scooters, Invacare supplies the world with exceptional products. They conduct their business in an ethically, socially and environmentally responsible way, so reliability and value is always at the forefront of their mind. Batteries within Invacare mobility scooters ensure peak performance and impressive ranges. So when it comes to replacing your existing battery, you will need something that matches the performance of the standard battery that comes with it. 
The battery configuration changes depending on the application of the scooter, so there can be a myriad of options to choose from which can be confusing for the best of us! We will listen to you, and ascertain exactly what battery you need for your mobility scooter, giving you the user experience you've been looking for.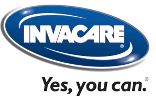 Not sure what battery you need?
Find your Invacare Mobility Scooter and its correct battery below.
Invacare Leo: 36ah
Invacare Colibri: 12ah
Invacare Comet: 75ah
Invacare Orion: 75ah